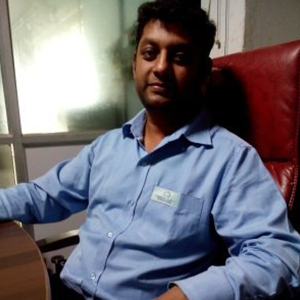 Mr. Arun Dhanpal
Kokila Group
Background:
I was just 23 & a college going student in my last year of Electronics Engineering. We were having a very small set up with a lot of loans, there was no other option for me other than taking up the responsibility to earn money. This led to giving priority to earning, then focusing on my education. I was having 2 options either to sell the business & look for other opportunities, or to continue with the business, I decided to continue with our business. This was the first time that I was getting exposed to the various business challenges, as I never had any knowledge on running any business for that matter. At that time, we had around 6 to 8 employees & my overall turnover was Rs. 60,000 per month as labor job.
I faced a lot of challenges during the initial period related to commercials, dealing with labors and trying to generate more order from the customers. Somehow I pushed myself and was able to learn all aspect of business in 6 months' span with the help of all our existing employees i.e. from drawings to delivery. Then in the 1st year I was able to take the turnover to 1 lakh. In the second year my turnover was 28 lakhs and we were in need of more orders & money to grow our business to the next level.
I had the dream to purchase a CNC machine as everyone used to talk about it, but I didn't know how to go about achieving this dream. That time we had our current account with HDFC, but because of less turnover, they did not entertain me for loan & did not value me or my caliber; I also didn't know about how balance sheets worked. During this period, I enquired everywhere for loans, including Canara bank & SBI, but no one supported.
Electronica Finance Limited Role:
Then one day I came to know about Electronica Finance Limited through one of my machine supplier. When I contacted them, they understood me and my aspirations as an entrepreneur and also trusted my abilities. With their support, all happened in lighting speed and they sanctioned my machine loan. I got my first CNC machine & also I shifted to new location.
Current Situation:
Today I have around 14 CNC & almost 10 -11 CNC's are financed by them. Today every bank has been after me to take loan when my turnover is 6 Crs. & because of Electronica Finance Limited, now my group turnover is 14 Crs.