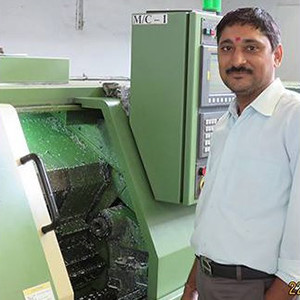 Mr. Anil Panchal
Brahmani Engineering
Background:
I've been in this business for the last 20 years and still going strong. It wasn't an easy journey for me at the beginning. I belong to a lower middle class family and times were difficult. After completing my internship, I came across an acquaintance who asked me to help him setup a welding rod trading business. We expanded our business over a period of time and got into fabrication business since I acquired great knowledge about this business while working at my previous company. In the year 2000, I completely took over the business. After acquiring the business, we realized how automation in our business was picking up. In order to automate my business, I needed funds and I approached many banks for a loan but in vain.
Electronica Finance Limited Role:
Eventually, a relative informed me about Electronica Finance Limited. In 2008, I got my first machine loan sanctioned by them. Back then, we had a total of 2 machines, 4 employees and our turnover was Rs. 60 lakh/annum.
Current Situation:
Today, we are stronger by 16 machines, 12 employees and our turnover is 2.4 crore/annum.